A decade worth of  thoughts on ISNetworld®
After many years of being a safety management consultant, a particular corporate client of mine first introduced me to ISNetworld® in 2008. I was indeed familiar with many other types of safety management systems at that time, but ISNetworld® seemed to be different and much more complicated. In fact, I was actually taken aback by the ISNetworld® review process, requirements, and overall lack of user-f
riendliness during this period of time. In other words, there was a significant ISNetworld® learning curve—even for an experienced professional.
Many people might consider the ISNetworld® safety management system to be complex now in 2018, but the earlier versions were much more difficult to navigate. Needless to say, there have been numerous improvements within the ISNetworld® online framework since its inception. Without going into the various technical improvements within the ISNetworld® system, I would like to provide you with an idea on why this article has been written and to whom it has been written for.
Consider the average business owner. This business owner has between 5 and 50 employees and provides a much-needed service or product within the energy or construction industry. Perhaps this business has been operating for many years and one day the business owner receives notice that the company is required to purchase an ISNetworld® subscription account in order to continue performing work. Some business owners are resistant to the idea of getting an ISNetworld® account while others simply obtain a subscription as soon as they are told to do so. All in all, there is usually an ultimatum or mandate making the ISNetworld® account absolutely essential for conducting work in the future for a particular hiring client.
So the business owner acquires an ISNetworld® subscription account and subsequently receives login information once a successful payment has been cleared. Now, what does the business owner do? He or she will watch the video tutorials required by ISNetworld® and, once this has been completed, full access to the subscription account will be granted. This is the point at which the small business owner quickly realizes the monumental and daunting workload of completing the action items within the ISNetworld® account. Questions such as, "Where do I start?" and "How am I going to get this done?" race through the business owner's mind.
Answers to these and many other questions are the prime reason this article has been written. That is, I have observed this dilemma on countless occasions with hundreds of clients who primarily fall within the small- to mid-sized business category. It is my aim that this article provide the reader significant insight into how to get started with ISNetworld® and manage the account effectively. The overall purpose and goal of the article is to assist the reader in becoming successful with his or her company's ISNetworld® subscription account. I wish every reader the very best in business and in life. It is my hope that this information is genuinely of use to you!
A Basic Introduction to the ISNetworld® Process
To fully understand the function of ISNetworld®, we must consider why the organization has been so successful in terms of their business model. Imagine that you own or control a very large corporation that employs thousands of people. However, you have found that it is more beneficial for your corporation to subcontract some services and products to subcontractors, suppliers, and vendors. In fact, you have more subcontractors, suppliers, and vendors than you do actual employees.
Because of this fact, your risk managers and actuaries want to ensure that while these subcontractors, suppliers, and vendors are performing work services or supplying products for your organization, each affiliated organization is properly insured. Your health and safety department wants to make sure that every subcontractor, supplier, and vendor is following the regulatory requirements mandated by OSHA. Perhaps there are additional agreements and requirements that your corporation desires as well.
Let's say, for example, your organization employs 5,000 people and maintains a vendor list of 20,000 subcontractors and other suppliers of products or services. This would mean that your organization would be required to manage 20,000 certificates of insurance with varying annual expiration dates, 20,000 OSHA 300 logs per annum, 20,000 contractor-specific written health and safety program manuals, etc. As you can see clearly, this can become a Herculean task even for the most well staffed organizations.
Enter in ISNetworld® as a third-party organization charged with managing copious numbers of subcontractors on behalf of a larger general contractor known as a "hiring client". EnCana, Devon Energy, Noble Energy, and ConocoPhillips are all examples of hiring clients that utilize the services of ISNetworld®. These hiring clients would rather pay ISNetworld® to manage their subcontractors, vendors, and suppliers than handle it internally because of the obvious commitment of human resources to such an endeavor. ISNetworld® has provided a cost-effective solution to this problem for hiring clients.
It would be nice if this were the end of the story, but as always, there's more! Every subcontractor, vendor, or supplier must maintain an active subscription account with ISNetworld® in order to be connected to hiring clients. The subscription account must be paid on an annual basis. In exchange, every subcontractor or supplier is required to submit certain documentation for review such as certificates of insurance, experience modification rating letters, OSHA 300 logs, etc. This information is reviewed for accuracy and reported to each hiring client within the ISNetworld® subscription account. The following diagram outlines the basic business model of ISNetworld®, which will allow for a visual representation of the process: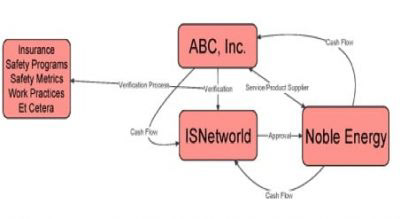 Since ISNetworld® is a company that provides verification services to its "hiring clients", each hiring client will have a queue of contractors that provide various goods and services. Hiring clients that utilize the services of ISNetworld® typically correlate poor safety performance measures with high risk. Safety performance is viewed in terms of incidence rates such as the total recordable incident rate (TRIR) or days away restricted/transfer incidence rate (DART). These incident metrics are based upon the number of Occupational Safety and Health Administration (OSHA) recordable injuries (e.g. fatality, days away, etc.) balanced against the total man-hours worked with respect to a constant of 200,000 hours. Thus, ISNetworld® provides valid information to their hiring clients based upon the predetermined parameters of risk management.
There are several components of verification that ISNetworld® requires, which upon verification, will be submitted to the hiring client. They are listed below and briefly described:
Management System Questionnaire (MSQ)
; the MSQ is a series of inquiries that a hiring client requires. These inquiries are often related to the work a company performs. Additionally, the MSQ typically requires responses pertaining to total man-hours worked and information regarding OSHA recordable injuries. The MSQ inquiries will vary from company to company. The MSQ must be completed and updated quarterly.
Review and Verification Services (RAVS)
; there are three components of RAVS that are generally part of a contractor account.
OSHA and EMR Verification
; the Occupational Safety and Health Administration requires that an employer keep records of recordable employee injuries on the OSHA 300, 300A, and 301 forms as required by Title 29 CFR Part 1904, Recording and Reporting Occupational Injuries and Illness. ISNetworld
®
requires that the most current OSHA 300 forms are correctly filled out and available for review by the hiring client. The
experience modification rating
(EMR) is usually calculated by workers' compensation agencies. However, some States allow for stock (i.e. "for profit") insurance companies to provide coverage to an employer's workers while other States are monopolistic—meaning that the State itself provides the coverage statutorily. The four monopolistic States are Ohio, North Dakota, Washington, and Wyoming. The EMR standard is based upon the number 1.0, which is considered average for a company's North American Industry Classification System (NAICS) number. Companies with an EMR of greater than 1.0 generally have higher rates of employee injury and less than 1.0 indicates lower than average injury rates. The EMR rate is provided at least annually and it must be reported to ISNetworld
®
for verification.
RAVS Program Safety Score
; a company's safety program must be submitted for review. However, ISNetworld
®
typically requires specific programs to be uploaded and reviewed. The hiring client will generally set the basic parameters of the safety programs required. For example, if a company conducts work at heights above four feet, a fall protection program will be required. ISNetworld
®
will ensure that the written safety program meets the standards and regulations of Federal OSHA mandates. In fact, each written safety program must be checked against the selected OSHA regulations and hiring client policies for 100% ISNetworld
®
compliance.
RAVS Training Document Verification
; because so many OSHA regulations require employee training, ISNetworld
®
reviews and verifies that training was conducted. Thus, official course records including employee signatures must be submitted for review. ISNetworld
®
 may require additional training based upon the parameters set forth by the hiring client.
Miscellaneous
; some hiring clients may require additional information to be uploaded or reported. The most common requirement is hiring client documents specific to a given location. For example, work on a location in Shreveport, Louisiana might require an acknowledgement form to be signed indicating acceptance of a policy. Another common example of miscellaneous requirements is the monthly tracking of hours worked by a vendor or supplier on a hiring client's location, which must be reported via ISNetworld
®
. Moreover, there is the potential for a hiring client to request a wide array of other information depending upon the predetermined risk management factors, so just be on the lookout for these as they populate the account.
These components of ISNetworld® verification are required of every company who provides services or products to a hiring client.
As described, the various components of managing and maintaining an ISNetworld® account can be tediously demanding at times. The objective of this section is to identify common problems and setbacks with ISNetworld® account management. Also, the information will assist a company in creating an actionable plan within a feasible timeframe.
The MSQ Questionnaire will require cooperation from many of your company's departments in order for all inquiries to be answered efficiently and correctly. For example, your payroll department may be able to provide information regarding the total man-hours worked in a single quarter, but may not have information on how many employee injuries there were in that same quarter. Acquiring the needed information is paramount to successful completion of the MSQ.
A common problem with the MSQ is that sometimes there are inquiries that do not apply. In such cases, there may be an option to check a "not applicable" box, but not always. Although confusing to the novice, these questions are not typically major setbacks and can always be changed later.
This information is required by law and is usually very accessible in most companies. These documents will definitely be required for the account. However, not all companies maintain the requisite OSHA recordkeeping forms for a variety of reasons and this has proved problematic in the past because the forms must be compiled and backdated three years. For example, employers with less than 10 employees are not required to maintain the OSHA 300 logs, but ISNetworld® will require these to be drafted regardless of the legal standard. Other employers have failed to maintain OSHA 300 logs at all. ISNetworld® verification has not proved problematic so long as the information is aligns with what has been reported on the MSQ questionnaire. An example of OSHA 300 and 300A logs can be found below.
There can be problematic issues with the experience modification rating letter for numerous reasons. For example, workers' compensation agencies typically require at least three years of claims analysis in order to compute an experience modification rating. Therefore, if an employer does not have more than three years of business operations with an active workers compensation policy, it can be very difficult to overcome this particular barrier. However, there are indeed proven strategies that can be employed, but these strategies are outside of our purposes here.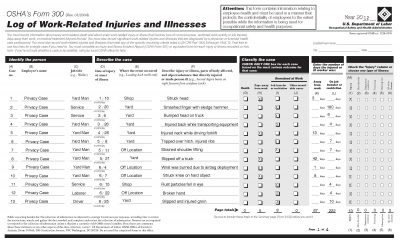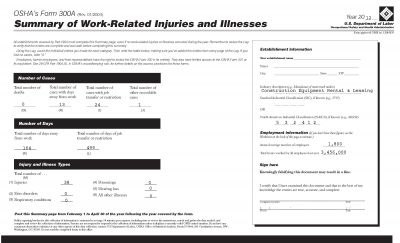 RAVS Program Safety Score
The amount of time and effort in this area largely depends upon a company's commitment to occupational safety and health in the workplace. Many companies maintain a satisfactory health and safety program that includes OSHA compliant written policies, but some companies do not. If the company has a safety program manual, an electronic copy will be needed. Furthermore, the safety program can be checked against the ISNetworld® requirements and, if needed, can be adjusted or amended to ensure full ISNetworld® compliance.
Submission and verification of the written safety programs can take ISNetworld® up to two weeks to verify, but generally is completed within a week's timeframe. Your company should be aware of this in order to plan efficiently. That is, if a program comes back only 98.7% compliant, minor adjustments must be made and the document will need to be resubmitted.
Sometimes the document meets or exceeds the requirements set forth by ISNetworld®, but did not achieve 100% compliance. Such cases require a phone call to ISNetworld® where the issue can be explored further or, if the noncompliance issue is obvious, then a simple correction and resubmission should rectify the deficiency. Most of the time these submissions are seamless, although the company should be aware of the potential for minor setbacks in the event a reviewer issues no credit.
The discussion on the RAVS safety program verification thus far has been heavily focused on the assumption that a written safety program exists for the company. If a written program does not exist, there are two ways to proceed:
The company begins to draft a formal health and safety program manual that effectively addresses the work conducted by employees. This is a comprehensive approach and requires significant time and effort to do correctly.
The company focuses on ISNetworld
®
 safety programs in order to achieve compliance and to move forward with organizational demands. Templates and generic programs are available to speed up this process. This would be a fast-track approach, but not the most optimal long-term solution.
At any rate, if your company does not have written safety programs at this juncture in time, expect more time and effort spent on this area. ISNetworld® requires that certain programs be set in place and without the written programs, compliance cannot be achieved. Thus, this would be a setback requiring more time, but not an impossible task.
RAVS Training Document Verification
A large part of OSHA regulations entails employee training. Similar to how some companies have no written safety programs, employee training is often a major problem in acquiring 100% ISNetworld® compliance. The solution is simple: in the areas where employee training is required, employees must be trained.
The training can be in-house and informal or the training can be formal. Regardless of the instructor or training provider, course records and employee signatures are required for ISNetworld® compliance. If the employees within your organization have received the necessary training required, course records must be submitted for verification and the process is usually very smooth. However, if employees lack the training required by ISNetworld®, the major setback is training the employees while simultaneously trying to balance out logistics and organizational demands.
Ever so often, a hiring client will require additional documentation. Usually, the requested documentation is a certificate of professional liability insurance with predetermined coverage minimums (e.g. $5M umbrella or excess). Sometimes miscellaneous documents are problematic with ISNetworld® verification and other times seamless; it depends.
The amount of time and effort spent on ISNetworld® will depend on your company and how well occupational safety initiatives have been implemented. There are two general phases of an ISNetworld® account. The first phase is aptly characterized in terms of start-up, which encapsulates for the most part what has been described herein. However, upon completion of the required components needed for full compliance, the account transitions to phase two, which is maintenance of the account. Both start-ups and maintenance activities can require much time and effort, so never think you can let things coast and remain idle.
ISNetworld® account holders receive email notifications frequently as changes to the account occur. Moreover, email notifications are also sent out to remind account holders of upcoming deadlines, problems, and results of verification requests. The MSQ must be updated quarterly. As ISNetworld® or hiring client requirements are changed or expanded, the account must be updated accordingly. Maintenance of accounts typically requires fewer company resources in comparison to the start-up phase.
The organization is not endorsed, sponsored, approved by, or otherwise affiliated with ISNetworld®.